Bryan Konefsky
---
A BIO
Bryan Konefsky, his spouse, and their three lovely dogs live in Albuquerque, New Mexico.  There, Bryan teaches film/video courses through the Media Arts Department at the University of New Mexico.  Bryan is also a board member of Basement Films (a regional media cooperative and micro cinema) and the artistic director of  Experiments in Cinema  film/video festival (www.basementfilms.org).
During his travels, Bryan creates odd, little movies and video installations that often incorporate a quirky sense of humor to look at issues such as identity, community and maleness.
Konefsky's work has been screened and exhibited at venues such as Artcite (Windsor, Ontario), Blinding Light Cinema (Vancouver), the Long Beach Museum (L.A.), the AFI Film Festival (L.A.), L.A.C.E. (L.A.), L.A. Freewaves (L.A.), the Dallas Video Festival (Texas), The Ann Arbor Film Festival (Michigan), the Knitting Factory (NYC), the Kitchen (NYC), The Robert Beck Memorial Cinema (NYC), Videoex (Switzerland), The Paris Underground Film Festival (France), Il Cinema Ritrovato (Italy),  and the European Media Arts Festival (Germany).. Bryan also seems to spend a fair amount of time at the Banff Centre for the Arts in Alberta, Canada… though, no one is really sure why.
Distribution:
Auto-cinematic #1 distributed by Peripheral Produce and Facets Video, PXL 2000 Compilation distributed by www.precious-realm.com
Also see: http://www.csustan.edu/Art/Gallery/Data/Artists/BryanKonefsky/Gallery.html
---
A STATEMENT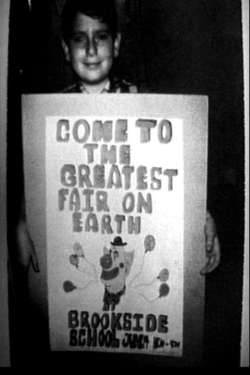 In 1967 I won my first art prize. I was in 4th grade and had made a winning poster for the annual school fair. The prize was a big book of tickets to Freedom Land amusement park just over the George Washington Bridge in New Jersey.
Freedom Land.
My parents never took me, they said it was too far. That winter, as we drove to New York City to see the Christmas Show at Radio City Music Hall I watched the dark silhouette of a Roller Coaster rise over the landscape on the other side of the river.
Freedom Land.
In 1969 I gave up any hope of making it to Freedom Land. I threw out my tickets... It was the same year that the Mets were "amazing."
Freedom Land.
Late that year the park was torn down and my parents took me to Play Land amusement park in Rye, New York...
Freedom Land.
June 2002
---
SOME TAPES I HAVE MADE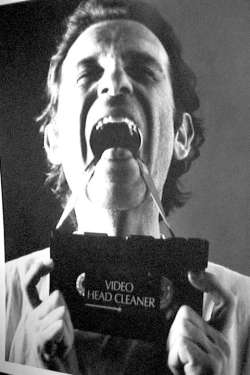 Chicken Delight
TRT 21.5 minutes Bryan Konefsky 2006

This essay-film is a meditation on the United States' ongoing courtship with radioactivity.  Here, the story begins with the Food and Drug Administration's decision to serve irradiated meat in their School Lunch Program, and ends with a story that William S. Burroughs might have written about using radioactivity to grow tumors as a hip, new fashion statement.  In between, the narrative winds its way through the history of radioactive paint that, in the 1920's, young women used on their lips and fingernails, radium suppositories that were marketed to men as an early version of Viagra, and radioactive wristwatches that are currently being used as a cock-ring contraceptives.

I'm In The Mood




TRT 4.5 minutes, Bryan Konefsky 2005

"Shaky Jake" croons passersby in a pixelvision-portrait of this popular Ann Arbor, Michigan street performer.

I Yam I What I Yam




TRT 16 minutes, Bryan Konefsky 2005
In 1929 monocular vision was not limited to the gaze of telescopes (Edwin Hubble) or movie cameras (Dziga Vertov).  1929 was also the year that the one-eyed, "strong to the finish" sailor named Popeye was first introduced to the United States as a comic strip character.  And, even after 75 years and 234 movies, Popeye's rebel yell for the common good, "I yam what I yam" still resonates with the hope and conviction of his visionary colleagues.

"Beautiful Dreamer"




TRT 2.5 minutes Bryan Konefsky 2005

Beautiful Dreamer is a short work that was shot in Vancouver, British Columbia.  Here, an unsuspecting passenger on a cruise ship becomes the object of my desire for two short but glorious minutes.

Operation Night Crawler
TRT 14 minutes, Bryan Konefsky 2004

Operation Night Crawler is a short work that looks back to a traumatic, pre-millennial moment when the filmmaker celebrated his 40th birthday. On that day (July 5, 1999) "all hell broke loose" in the filmmaker's mind as issues of morality, booze-hall protocol and good ol' New England incest collided in unexpected and revealing ways.

A Junky's Christmas
TRT 16.5 minutes, Bryan Konefsky 2004
Culture jamming at its best! Here, images from Frank Capra's 1946 movie It's A Wonderful Life collide with the words of visionary author William S. Burroughs' reading of his story "The Junkie's Christmas." The results are surprising as the American dream becomes an American nightmare.
The First Time I Wore Pantyhose
TRT 4 minutes, Bryan Konefsky 2002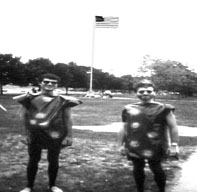 A cinematic homage to a time when I thought that I was a flounder (the fish) and that this fantasy would somehow redeem something in my not-yet-developed psyche.
You Are Here
TRT 7 minutes, Bryan Konefsky 2002
Yikes! Another cinematic homage. Here, I am memorializing a prank that was executed in direct response to a very stupid comment made by actor Paul Newman in 1983.
Amsterdam Diary May 1, 2002
TRT 9.5 minutes Bryan Konefsky 2002
Amsterdam Diary is a short observational work that was recently shot at Koninklijk Paleis Dam in the Netherlands. This video-portrait studies public space, the intersection of two very specific realities, and, well, the futility of it all.
Albuquerque Diary: December 23, 2001
TRT 3 minutes, Bryan Konefsky 2002
This short work was built around a recording of John (last name unknown), a street performer in Albuquerque, New Mexico whose univited performance at the annual Route 66 "Santa Claus" parade was curiously engaging and, well, ultimately rather profound.

Everything In Between
2002 (in progress)
Bryan Konefsky TRT 30 minutes
A video essay that considers the term "monumentalism" as it relates to American culture(s)/paranoia, and asks the question "what do we really need to do, to prove that we (humans) were here?"
What Will I Do?
TRT 3 minutes, Bryan Konefsky 2001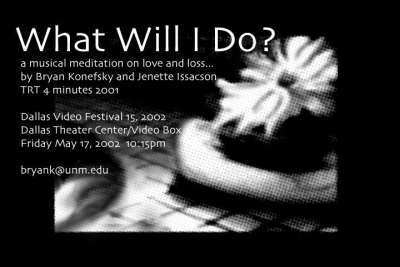 This short musical meditation on love and loss was inspired by a stage performance by Jenette Issacson. Her voice is featured on the soundtrack of this work. Shot in an abandoned spa this atmospheric movie combines images captured on digital video, pixelvision, and 16mm film which were processed and edited with Final Cut Pro software.

Homo Sapien
TRT 3 minutes, Bryan konefsky 2001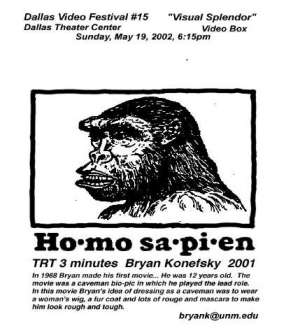 In 1968 Bryan Konefsky directed his first movie. It was a caveman-bio-pic in which he played the lead role. In this short movie one might note that Konefsky's idea of dressing as a caveman included wearing a woman's fur coat, a woman's wig, and painting his face with rouge and mascara to make him look rough and tough. Homo Sapien is an homage to that first cinematic experience.

Down On A Ramp
TRT 18 minutes, Bryan Konefsky 2001
A unique portrait of New Mexican writer Lisa Gill that folds into a larger poetic lament for the erosion of American cultural values.

Skunk Cabbage
TRT 22 minutes, Bryan Konefsky 1998
This tape takes a wry look at the complex relationship between information and knowledge as seen through this film maker's diaristic consideration of family stories, family secrets, family history and an unnatural preoccupation with his own foreskin.

Bridgeport: The City At The End Of My World
TRT 20 minutes, Bryan Konefsky 1997
… A personal look at desperation, adaptation, and survival. In this work the viewer is lead through the post-industrial wasteland of Bridgeport, Connecticut (the film maker's adapted hometown) where an abandoned urban landscape, once a thriving metropolis and home to personalities such as PT Barnum and Buckminster Fuller, has new become the economic landfill for the wealthy communities that surround the city.

Some Songs I Like, And Some Songs I Don't Like
TRT 7 minutes, Bryan Konefsky 1997
A quirky portrait of WPKN Radio in Bridgeport, Connecticut. WPKN, located on the campus of the University of Bridgeport (a college now owned by Sun Myung Moon), claims to be the only 100% listener-supported radio station in the United States. Their slightly less-than-center programming considers NPR to be the virus of the airwaves.

Gate Of Mercy
TRT 7 minutes, Bryan Konefsky 1996
This tape is a short document of a decaying visionary environment in Waterbury, Connecticut called "Holy Land." In the piece the son of one of the many Italian immigrants responsible for creating this "Watt's Towers of the east coast" reflects on its construction and his experiences as a child visiting the site. Holy Land was built on top of the tallest hill in Waterbury during the 1950's and 60's. Italian construction workers, masons, and carpenters donated their time to re-create (out of plaster, chicken wire and other throw-away materials) the entire biblical story as a sanctuary for the "working man."

It's The Flavor That Makes It Taste Good
(Nos Frigidaires Sont Des Cercueils)
TRT 6 minutes, Bryan Konefsky 1994
To me, the most frightening section of a grocery store is the produce department. Everything is laying out there open and exposed. It's a horribly real place where one comes face to face with death and decay that is brazenly labeled "Fresh." Our refrigerators are coffins, final resting places for those items deemed unworthy of being canned or packaged. This tape is a kind of love story that is laced with Green Grocer anxiety. It eclipses into an apocalyptic nightmare of vegetables, beach toys and good intentions gone awry.

Husky
TRT 8 minutes, Bryan Konefsky 1994
This tape explores the roots of my ongoing struggle with fashion. Corduroy and denim are pitted against each other in a deadly battle that involves adolescence, identity and my birthday.

Love Child
TRT 4 minutes, Bryan Konefsky 1994
Love Child is the happy ending to issues raised in Husky. A collision of self pity, self abasement and self indulgence form the foundation of this work and generate its electronic mantra, "Bryan, you look nice tonite."
---
SOME PLACES WHERE I'VE SHOWN MY WORK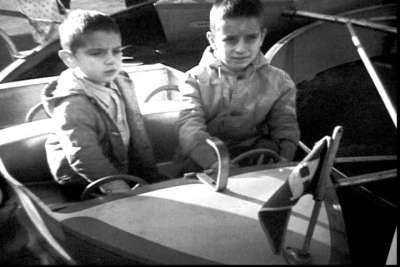 2007 "Experimental Documentaries - Konefsky/Benstock," Sponto Gallery,
Venice, CA
2006 Ein Zentrum in Der Peripherie, Tubingen, Germany
FLEX Film Festival, Gainsville, Florida
Bearded Child Film Festival, Grand Rapids, MN
"White History Week," Out Ch'Yonda Performance Space, Albuquerque,
NM (film screening)
Dallas Video Festival, TX
Anti-Matter Film Festival, Vittoria, British Columbia, Canada
Les Inattendus Festival, Lyon, France
Les Inapercus Festival at Glaz'Art, Paris, France
Athens Video Festival #33, Ohio
PDXFilm/Video Festival, Portland, Oregon
L.A. Freewaves, "Too Much Freedom?," LA, CA
High Mayhem Emerging Arts Festival, Santa Fe, New Mexico
2005 "Caput Nili" multi media performance, OutChonda performance space,
Albuquerque, NM
Dallas Video Festival, TX
Athens Video Festival #32, Ohio
The Other Cinema, San Francisco
Version>5 media festival, Chigago
MCA Film Biennial, Denver, CO
Santa Fe Film Festival screening series, Cinema Café, Santa Fe, NM
Bearded Child Film Festival, Grand Rapids, MN
PXL This 14 Film Festival, Los Angeles, CA
Norwegian Film Institute, Oslo, Norway
"Auteur Cinema: The Challenge of Eroticism," Asolo Art Film Festival, Asolo, Italy
2004 The Other Cinema, San Francisco, CA
"The Closet Of Dr. Calimari," gallery exhibition, AC2 Gallery, Albuqueruque, NM
CineNest (Northeast Space/Time), Bridgeport, CT
Experimental Exposure UICA, Chicago, IL
Itinerant Traveling Film Festival, San Francisco, CA
Squeaky Wheel/Buffalo Media Resources, Buffalo, NY
Il Cinema Ritrovato, Bologna, Italy
Paris International Underground Film Festival
Ann Arbor Film Festival, Ann Arbor, Michigan
Dallas Film & Video Festival, Dallas, TX
L.A. Freewaves, "How Can You Resist?" Redcat Theater, LA, CA
2003 "Bryan Konefsky: A Retrospective," Subterranean Cinema, Jacksonville, Florida
Fluxus On-Line International Film Festival (Zeta Films)
Video i, KTEH-TV, San Jose, California
"PXL This 12," Los Angeles, CA
2002 "Bryan Konefsky: A Retrospective," Site Santa Fe/Santa Fe Film Festival
"Bryan Konefsky: A Retrospective," My House Cinema, Eugene, Oregon
"Bryan Konefsky: A Retrospective," The Lab Cinema, Portland, Oregon
"Bryan Konefsky: A Retrospective," Blinding Light Cinema, Vancouver, Britsh Columbia
3 Minute Film/Video Festival, Plan B, Santa Fe, New Mexico
"This Will Lead To The Hard Stuff," California State University at Stanislaus Art Gallery
"Documental," Experimental Film & Video Series, Santa Monica, CA
"PXL This 11," Los Angeles, CA
Taos Talking Picture Festival, Taos, NM
Dallas Film & Video Festival, Dallas, TX
Videoex, media festival, Switzerland
The Other Cinema, San Francisco, CA
The European Media Arts Festival, Osnabruck, Germany

2001 "Explicador-Rama," Riverside Theatre, Albuquerque, New Mexico
"Stekki Daiyo Presents New Video/Film," Santa Barbara, CA
"Dirty Weekend," Harwood Art Center, Albuquerque, NM
2000 "The Descent of American Culture," Albuquerque, NM
Smack Mellon Studios, Brooklyn, NY
Media City 6, Artcite, Windsor, Ontario
1999 "The Phi Phenomenon '99," ARC Gallery, Albuquerque, NM
"Idea Photographic," 516 Artspace, Albuquerque, NM
Athens 26th Film and Video Festival, Athens, OH
Dallas Film and Video Festival, Dallas, TX
"20 Questions: Person, Place or Thing," Long Beach Museum of Art, CA
"Pssst," Plan B, Santa Fe, NM
1998 "Auto-Cinematic," Peripheral Produce, Portland, OR
"Pixel This 8," Los Angeles, CA
"No England, No Amsterdam," Real Art Ways, Hartford, CT
"Technological Bottom Feeders," Artcite, Windsor, Ontario;
Niagara Artists' Centre, St. Catherine's, Canada
"Documental," Experimental Film/Video Series, Santa Monica, CA

1997 "Hybrid Video Series #11 (American Cities)," The Kitchen, New York, NY
"New Masculinities," Houston Center for Photography, TX (traveling exhibit)
"City-Scapes," Mobius Art Center, Boston, MA
"Heaven and Hell (Holyland Goes to Heaven)," Real Art Ways, Hartford, CT
"Documental," Experimental Film/Video Series, Santa Monica, CA
"Media City III (Tough Love)," ARTCITE, Windsor, Ontario, Canada

1996 "Regression/Obsession," The Knitting Factory, New York, NY
"Holy Land," Margaret Bodell Gallery, New York, NY
AFI International Film Festival (City Symphonies), LACE, Los Angeles, CA
"PXL This 6," LACE, Los Angeles, CA
Taos Talking Picture Festival, Taos, NM
"23rd Athens Film/Video Festival" (Documentary Video Award), Center for Film and Video, Athens, OH
1995 "25 Years of Video Art," Bridge Center for Contemporary Art, El Paso, TX
Media City 2, Art/Site, Windsor, Ontario, Canada
"PXL This 5," Vidiots Gallery, Santa Monica, CA
"Video Makers' Forum," Center for Contemporary Art, Santa Fe, NM
Taos Talking Picture Festival, NM
911 Media Arts Center, Seattle, WA (sponsored by Heart Attack Video)
"22nd Athens Film/Video Festival," Center for Film & Video, OH
1994 "21st Athens Film/Video Festival," Center for Film & Video, OH
"Heart Attack Video Presents," Seattle Art Museum, WA
"3e Mondial de la Video," Brussels, Belgium
"The Thomas E. Edison Black Maria Film/Video Festival" (Director's Citation Award), NJ
"PXL This 4," Vidiots Gallery, Santa Monica, CA
---
CONTACTING ME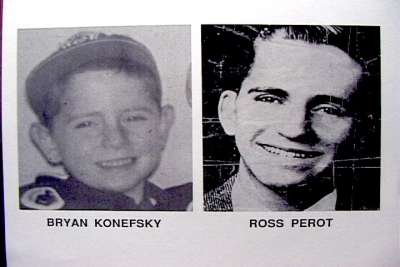 Bryan Konefsky
224 Girard Blvd SE Albuquerque, NM 87106
TEL/FAX505.268.7366 bryank@unm.edu
---
artists
venues
images