Announcements
New Film/Video: feature
the core
Location: Paris, Ile-de France, France
Contact (be sure to replace [at] with @) : Katia Roessel, katia.roessel [at] ensba.fr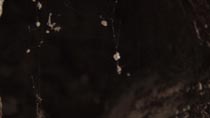 'the core' deals with a small trouble-filled place where two characters finally leave their isolation. in the course of a literary voice-over by Lucian, the viewer is moved by the dim, unsettling sensations brought about by the depiction of a landslide in an anonymous working camp. everything seemed to be colored by clankling noise and beam filled with smoke. thoughts and words were forced to be mute. yet there was nothing to understand pure pain when the earth put into chaos opened and closed from inside, resembling an endless childhood : it continues to open and close.
in fact the dust-swamped image introduces a fusion between fiction and reality while fiction generates the reality which still remains in search for humanity. it is the aftermath of dreamlike scenes, as it is the result of breaking desires.
therefore one can gather the stream of humiliated and invaded beauty that is incarnated by the actors as a temptation to concieve the being for new reasons to experience and express love.


URL: http://catherineroessel.blogspot.com
return to New Films/Videos: features | enter an announcement | home