Announcements
New Film/Video: non-feature
Memory Game
Location: Cologne, Germany
Contact (be sure to replace [at] with @) : Wilfried Agricola de Cologne, agricola [at] koeln.de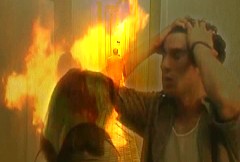 Memory Game (2010, 7:40)
Five friends meet each other once a year at another place on the globe for one day and play their memory game. In 2010, they meet in Berlin, a place where countless strings of memory come together at the focus of one place which is standing for the more than 6 millions of murdered Jews, the Memorial for The Murdered Jews in Europe.

The video was filmed in Berlin, Budapest and Auschwitz and is released on occasion of 65th return of the Liberation of the Concentration Camp Auschwitz on 27 January 2010.


URL: http://movingpictures.agricola-de-cologne.de
return to New Films/Videos | enter an announcement | home